Enhance the Curb Appeal Of Your Home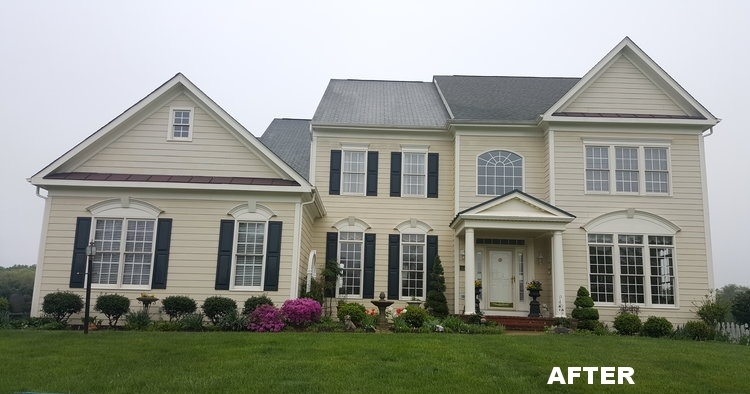 Our home is the place where we spend most of our time and where friends and family come to visit us. Making sure that our house is clean and presentable is extremely important. We see many beautiful homes around the Baltimore area that have all the indications of an attentive and detail oriented owner but the siding or roof is covered with dirt and algae. For most home owners, it's very difficult to clean the exterior of their house. Besides the equipment costs, it can prove to be a very dangerous task given the heights of most homes.It's not that they don't care, it's just beyond the ability of most people.
That's where we can be of service
Our soft washing process is both economical and effective. What most people are not aware of is that dirt holds moisture which allows algae to grow. Also, if you don't kill the algae, it will simply grow right back. In other words, a professionally cleaned home stays clean longer. We use a professional house wash detergent that is safe and produces better results than high pressure. Blasting your siding and roof with high pressure can permanently damage your home.
It's Fast
Many customers expect a roof cleaning and or a house washing to be an all day affair. They envision scaffolding, boom trucks and other heavy lawn destroying equipment scattered across their property…but it's nothing like that. At most we'll use a ladder to get to the roof and for a house wash, all you'll have on your lawn is our hoses. All the equipment stays on the street. We typically complete a house wash or roof clean within a couple of hours.
Affordable Pressure Washing is fully insured, equipped with state of the art soft washing equipment and our staff is highly trained.